thumb|300px|right|Louis Armstrong - Basin Street Blues - 1959 The trumpet is the musical instrument with the highest register in the brass family. Trumpets are among the oldest musical instruments, dating back to at least 1500 BCE. They are constructed of brass tubing bent twice into an oblong shape, and are played by blowing air through closed lips, producing a "buzzing" sound which starts a standing wave vibration in the air column inside the trumpet.
There are several types of trumpet; the most common is a transposing instrument pitched in B♭ with a tubing length of about 134 cm. The predecessors to trumpets did not have valves, but modern trumpets generally have either three piston valves or three rotary valves. Each valve increases the length of tubing when engaged, thereby lowering the pitch.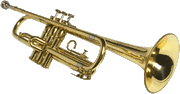 The trumpet is used in many forms of music, including classical music and jazz.
A musician who plays the trumpet is called a trumpet player or trumpeter.
What famous musicians have played the trumpet?
What Musicians Play the Trumpet?
Edit

For a complete list of the professional musicians who play trumpet, and their stories, see the category Trumpeters.
For a complete history of the trumpet, see Trumpet History
How is a Trumpet Built?
Edit
To find out more about how a trumpet is constructed, see Trumpet - Construction
How Does a Trumpet Produces Sound?
Edit
As with all brass instruments, sound is produced by blowing air through closed lips, producing a "buzzing" sound into the mouthpiece and starting a standing wave vibration in the air column inside the trumpet.
The player can select the pitch from a range of overtones or harmonics by changing the lip aperture and tension (known as the embouchure).
Types of trumpets
Edit
For modern trumpets, see: Modern Trumpets. For the trumpet in history and its evolution, see Trumpet History
Fingering
Edit
On any modern trumpet, cornet, or flugelhorn, pressing the valves indicated by the numbers below will produce the written notes shown - "OPEN" means all valves up, "1" means first valve, "1-2" means first and second valve simultaneously and so on. The concert pitch which sounds depends on the transposition of the instrument. Engaging the fourth valve, if present, drops any of these pitches by a perfect fourth as well. Within each overtone series, the different pitches are attained by changing the embouchure, or lip-aperture size and "firmness". Standard fingerings above high C are the same as for the notes an octave below (C♯ is 1-2, D is 1, etc.)
Each overtone series on the trumpet begins with the first overtone - the fundamental of each overtone series can not be produced except as a pedal tone. Notes in parentheses are the sixth overtone, representing a pitch with a frequency of seven times that of the fundamental; while this pitch is close to the note shown, it is slightly flat relative to equal temperament, and use of those fingerings is generally avoided.
The fingering schema arises from the length of each valve's tubing (a longer tube produces a lower pitch). Valve "1" increases the tubing length enough to lower the pitch by one whole step, valve "2" by one half step, and valve "3" by one and a half steps. This scheme and the nature of the overtone series create the possibility of alternate fingerings for certain notes. For example, third-space "C" can be produced with no valves engaged (standard fingering) or with valves 2-3. Also, any note produced with 1-2 as its standard fingering can also be produced with valve 3 - each drops the pitch by 1-1/2 steps. Alternate fingerings may be used to improve facility in certain passages, or to aid in intonation. Extending the third valve slide when using the fingerings 1-3 or 1-2-3 further lowers the pitch slightly to improve intonation.
Extended technique
Edit
Yale trombone professor John Swallow noted that brass techniques expanded rapidly in the 20th century due to the innovations of jazz players.[citation needed] Contemporary music for the trumpet makes wide uses of extended trumpet techniques.
Flutter tonguing: The trumpeter rolls the tip of the tongue to produce a 'growling like' tone. It is achieved as if one were rolling an R in the Spanish language. This technique is widely employed by composers like Berio and Stockhausen.
Growling: While playing a note, clinching the back of the throat to partially obstruct the air, preventing it from flowing evenly. This creates a gargling sound, thus making a 'growling' sound from the bell. Utilized by many jazz players, not to be confused with flutter tonguing, where the tongue is 100% responsible for creating the sound desired.
Double tonguing: The player articulates using the syllables ta-ka ta-ka ta-ka
Triple tonguing: The same as double tonguing, but with the syllables ta-ta-ka ta-ta-ka ta-ta-ka.
Doodle tongue: The trumpeter tongues as if saying the word doodle. This is a very faint tonguing similar in sound to a valve tremolo.
Glissando: Trumpeters can slide between notes by depressing the valve halfway or changing the lip tension. Modern repertoire makes extensive use of this technique.
Vibrato: It is often regulated in contemporary repertoire through specific notation. Composers can call for everything from fast, slow or no vibrato to actual rhythmic patterns played with vibrato.
Pedal tone: Composers have written for two and a half octaves below the low F#, which is at the bottom of the standard range. Extreme low pedals are produced by slipping the lower lip out of the mouthpiece. The technique was pioneered famously by Bohumir Kryl.
Microtones: Composers such as Scelsi and Stockhausen have made wide use of the trumpet's ability to play microtonally. Some instruments are adapted with a 4th valve which allows for a quarter-tone step between each note.
Mute belt: Karlheinz Stockhausen pioneered the use of a mute belt, worn around the player's waist, to enable rapid mute changes during pieces. The belt allows the performer to make faster and quieter mute changes, as well as enabling the performer to move around the stage.
Valve tremolo: Many notes on the trumpet can be played in several different valve combinations. By alternating between valve combinations on the same note, a tremolo effect can be created. Berio makes extended use of this technique in his Sequenza X.
Noises: By hissing, clicking, or breathing through the instrument, the trumpet can be made to resonate in ways that do not sound at all like a trumpet. Noises sound a 1/2 step higher than they are notated,[citation needed] and often require amplification to be heard.
Preparation: Composers have called for the trumpet to be played under water, or with certain slides removed. It is increasingly common for all sorts of preparations to be requested of a trumpeter. Extreme preparations involve alternate constructions, such as double bells and extra valves.
Singing: Composers such as Robert Erickson and Mark-Anthony Turnage have called for trumpeters to sing during the course of a piece, often while playing. It is possible to create a multiphonic effect by singing and playing different notes simultaneously.
Double buzz: Trumpeters can produce more than one tone simultaneously by vibrating the two lips at different speeds. The interval produced is usually an octave or a fifth.
Lip Trill or Shake: By rapidly varying lip tension, but not changing the depressed valves, the pitch varies quickly between adjacent harmonics. These are usually done, and more straight-forward to execute, in the upper register.
Instruction and method books
Edit
One trumpet method publication of long-standing popularity is Jean-Baptiste Arban's Complete Conservatory Method for Trumpet (Cornet).[1] Other well-known method books include Technical Studies by Herbert L. Clarke,[2] Grand Method by Louis Saint-Jacome,Daily Drills and Technical Studies by Max Schlossberg, and methods by Claude Gordon, Charles Colin, James Stamp and Louis Davidson.[3] Vassily Brandt's Orchestral Etudes and Last Etudes[4] is used in many college and conservatory trumpet studios, containing drills on permutations of standard orchestral trumpet repertoire, transpositions, and other advanced material. A common method book for beginners is the Walter Beeler's Method for the Cornet, and there have been several instruction books written by virtuoso Allen Vizzutti. The Breeze Eazy method is sometimes used to teach younger students, as it includes general musical information.
Main article: List of trumpeters
In early jazz, Louis Armstrong was well known for his virtuosity and his improvisations on the Hot Five and Hot Seven recordings. Miles Davis is widely considered one of the most influential musicians of the 20th century. His trumpet playing was distinctive, with a vocal, clear tone that has been imitated by many. The phrasing and sense of space in his solos have been models for generations of jazz musicians.[5] Dizzy Gillespie was a gifted improviser with an extremely high range, building on the style of Roy Eldridge but adding new layers of harmonic complexity. Gillespie had an enormous impact on virtually every subsequent trumpeter, both by the example of his playing and as a mentor to younger musicians. Maynard Ferguson came to prominence playing in Stan Kenton's orchestra, before forming his own band in 1957. He was noted for being able to play accurately in a remarkably high register.[6]
Notable classical trumpeters include Maurice André, Armando Ghitalla, Hakan Hardenberger, Adolph "Bud" Herseth, Malcolm McNab, Rafael Méndez, Maurice Murphy, Sergei Nakariakov, Charles Schlueter, Philip Smith, William Vacchiano, Allen Vizzutti, and Roger Voisin .
Notable jazz trumpet players include Nat Adderley, Bud Brisbois, Chet Baker, Clifford Brown, Donald Byrd, Doc Cheatham, Don Cherry, Kenny Dorham, Dave Douglas, Jon Faddis, Roy Hargrove, Tom Harrell, Freddie Hubbard, Roger Ingram, Harry James, Wynton Marsalis, Blue Mitchell, Lee Morgan, Fats Navarro, Nicholas Payton, Claudio Roditi, Wallace Roney, Arturo Sandoval, Bobby Shew, Doc Severinsen, Woody Shaw, Allen Vizzutti, Cootie Williams, and Snooky Young.
Notable natural trumpet players include Valentine Snow for whom Handel wrote several pieces and Gottfried Reiche who was Bach's chief trumpeter.
The American orchestral trumpet sound is largely attributable to Adolph "Bud" Herseth's 53-year tenure with the Chicago Symphony Orchestra. Though he was not as prolific a teacher as some of his peers, his widely recorded sound became the standard for American orchestras.
Musical pieces
Edit
The chromatic trumpet was first made in the late 18th century. The repertoire for the natural trumpet and cornetto is extensive. This music is commonly played on modern piccolo trumpets, although there are many highly proficient performers of the original instruments. This vast body of repertoire includes the music of Gabrieli, Monteverdi, Bach, Vivaldi and countless other composers. Because the overtone series doesn't allow stepwise movement until the upper register, the tessitura for this repertoire is very high.
Joseph Haydn's Trumpet Concerto was one of the first for a chromatic trumpet,[7] a fact shown off by some stepwise melodies played low in the instrument's range. Johann Hummel wrote the other great Trumpet Concerto of the Classical period, and these two pieces are the cornerstone of the instrument's repertoire. Written as they were in the infancy of the chromatic trumpet, they reflect only a minor advancement of the trumpet's musical language, with the Hummel's being the more adventurous piece by far.
In 1827, François Dauverné became the first musician to use the new F three valved trumpet in public performance.
In the 20th century, trumpet repertoire expanded rapidly as composers embraced the almost completely untapped potential of the modern trumpet.
References
Edit
Bibliography
Edit
External links
Edit
Template:Commons Template:Wikisource1911Enc
Trending pages
All items (6)
Community content is available under
CC-BY-SA
unless otherwise noted.